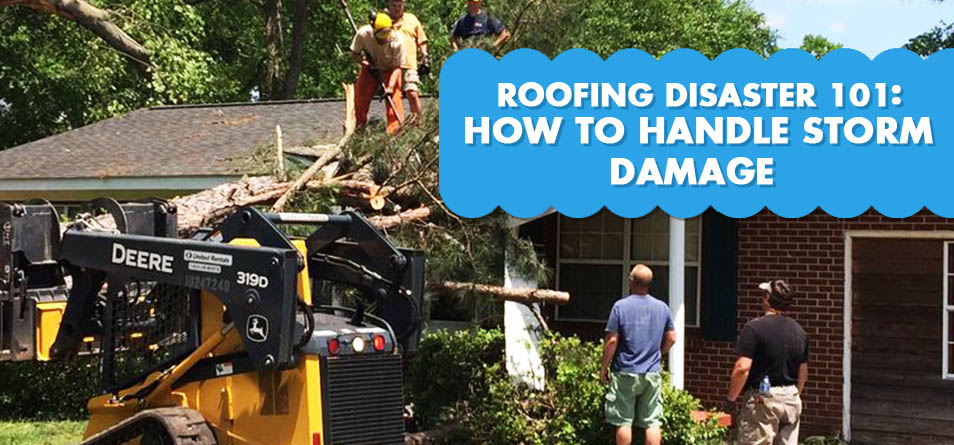 Roofing Disaster 101: How to Handle Storm Damage
Damaging weather is unpredictable and as a Colleyville, TX homeowner, it is important to have a clear understanding of the steps to take when your roof has been compromised. Windstorms, severe rainstorms, and even in the rare case snow, can all have serious consequences. Let's examine the four steps you should take in the event of a roofing disaster.

1. Assess the Damage

This first step is essential as it enables you to discuss your needs with both your insurance company and contractor, lessening the chance of unforeseen costs or discrepancies. Look at your roof and estimate the general square footage along with the specific details of the area that has been damaged. Binoculars come in handy, as you will want to look carefully for missing shingles. Any materials that are exposed such as plywood and tar-paper should be documented.

2. Make Temporary Fixes

In the event that your roof is severely damaged, especially in an area directly above a living space, it is in your best interest to make a temporary fix. Place buckets or garbage cans under leaks and remove any valuables to prevent further interior damage. Depending on the level of exposure, a strapped tarping method or ice and water membrane may be necessary.

3. Contact the Insurance Provider

If the damage is large enough to be covered through your home insurance policy, your next step should be to contact your provider. In the event of a natural disaster where large residential areas are hit by a storm, this is the soundest way to approach the problem. If the damage is relatively minor, it may be better to hire a contractor directly.

4. Research Reliable Contractors

If you decide to hire a private roofing company, such as Charles Martin & Son Roofing, ensure that they are certified and knowledgeable in the various roofing codes as well as appropriate roofing systems for your area. Additionally, it is even better if they can work in conjunction with your insurance provider to file a claim.
—
Your roof is the barrier that prevents harsh elements from impacting the interior of your home. If you are faced with a disaster that may have compromised your Bedford, TX roof, contact professionals at Charles Martin & Son Roofing to obtain a free estimate today!