Are You Aware?
DO YOU HAVE A ROOFING MATERIAL THAT HAS BEEN DISCONTINUED?
Tamko – Lamarite Slate ˆ Hardi Slate or Hardi Shake ˆ Maxi Slate or Maxi Shake
ˆ Some Synthetic Slates ˆ Some Concrete Tiles ˆ Some Metal Shingles
Discontinued roofing materials can be scarce. If your roof has any of the products listed above, it is highly unlikely that you will be able to find matching materials for repairs. Most roofs can be completely replaced through homeowner's insurance when damage has been caused by hail or wind storms.
Beware of roofing material that is susceptible to foot traffic and impact! Most other roofers are unfamiliar with the wide variety of roofing manufacturers' products; they can ignorantly cause more damage to certain roofing materials. No one should be allowed on your roof without thorough knowledge of how to walk on it properly. We are here to help you understand your situation, give you an accurate assessment, and present you with your best options.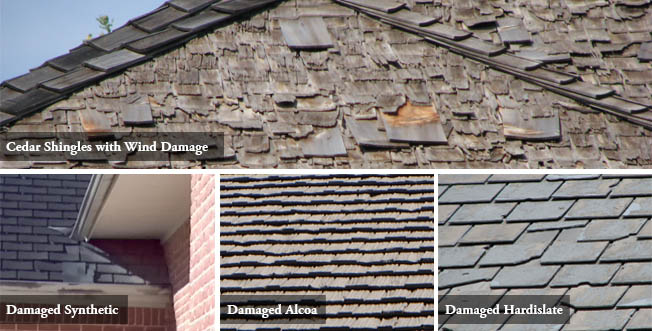 Learn more about insurance claims >>