Gerard manufactures quality stone-coated steel roofing systems for the highest level of aesthetics, durability and colors to suit your style.
Overview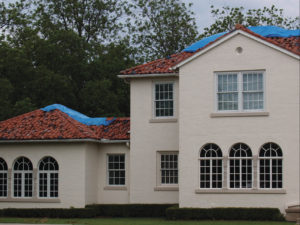 Gerard's roofing systems provide the performance of steel in a full complement of profiles and colors to suit your style, from their Canyon Shake wood shake tile to Granite Ridge metal shingles and beyond. Because of their strength and durability, Gerard roofs withstand the elements, not only enhancing your structure's appeal but your property's value as well.
A broad range of features allow Gerard metal roofing systems to provide your home with optimal protection and efficiency gains. Their lightweight material (only 1.4 pounds per square foot) reduces the threat of roof collapse and damage under strenuous conditions. Additionally, these roofs have optimal fire and impact ratings. Moreover, the systems are coupled by comprehensive warranties, including lifetime non-prorated limited product, 120 mph wind and 2.5" hailstone warranties.
All in all, no matter the circumstances, Gerard roofing systems are built to never warp, crack, rot or break. Gerard uses highly UV-reflective natural granite stone chips that are bonded and sealed to stamped 26-gauge Galvalume® steel panels, which interlock for superior sealing and resistance qualities. With the advantages of a structurally strong system, installation techniques can vary and allow for a large air space between the deck and the panels. Gerard's full range of profiles and colors constitute a premium roofing system with the benefits of insulation, ventilation and noise reduction. For these reasons, despite the tests of the elements, a roof by Gerard will be the last one your home will ever need.
Now let's discuss the specifics of how these roofing systems stand up to each of the four elements.
HAIL
Through careful research and testing, Gerard has developed 26-gauge steel panels that are able to stay intact under the pressure of intense impacts, such as from large hailstones or pieces of debris crashing into them. The strength and durability of these roofs are backed by a Class 4 impact rating and 2.5" hailstone warranty, allowing your family and insurance company to rest easily.
Do You Have Hail Damaged Roofing?
Hail damage may not initially cause a shingle roof to start leaking, but will cause functional damage which affects the remaining life of your shingles, and Homeowner insurance policies usually do not cover this. If you are a homeowner who has incurred hail damage to your roofing, consider replacing your roof with a Gerard metal roof – guaranteed to withstand hail as large as 2.5″ in diameter.
What To Do After A Hailstorm
Log the Date and Time of the hailstorm – your insurance agent will need this information.   If possible, immediately after the storm take photographs of the hailstones and any damaged property around the home. Photograph the largest hailstones next to a tape measure as the size of the hailstones is directly proportional to the potential for damage