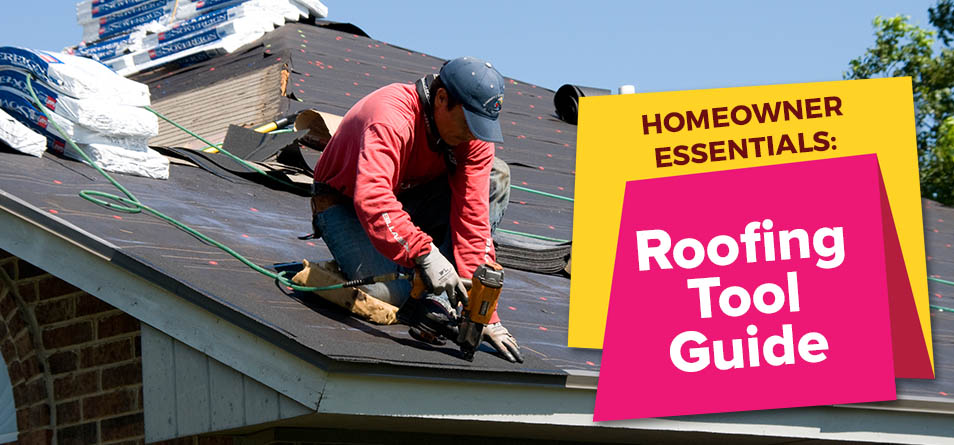 Homeowner Essentials: Roofing Tool Guide
Roofing can be a dangerous job, especially when left to inexperienced individuals. Regardless of whether you are a professional roofer or experimenting with DIY projects, having the best tools and safety equipment is essential. Let's discuss the basics needed to maintain, repair, or install a roof. While some of the tools have been around for decades, others have just been added to the list of high tech roofing tools.
Air Knife: Cuts through thick laminate shingles with a high-tempered hook blade while running on compressed air.
Hammer Stapler: Used to apply heavy duty, rustproof staples to roofing systems.
Knee Pads: Helps protect the knees through giving additional support and comfort.
Pry Bar: Comes in a variety of lengths but is generally used to remove roofing material.
Roofing Hammer: Contains a hatchet on one end and a hammer on the other in order to split shakes and pound nails.
Roofing Nailer: One of the most essential tools for the job, but also frequently used in order to quickly nail down material.
Shingle Saw: Used to cut shingles and other roofing materials such as metal, masonry, and fiber cement.
Slater's Bracket: Holds planks in place when working on slate roofs.
—
Overall, equipping yourself with the right tools will enable you to complete roofing tasks not only efficiently, but safely as well. While these are your basic tools needed to complete the job, a roofing company will have specialized equipment to ensure proper removal, repair, and installation. Roofing professionals at Charles Martin and Son Roofing can help answer any questions and plan for all possible Colleyville, TX roofing projects. Contact us today to schedule a free consultation.