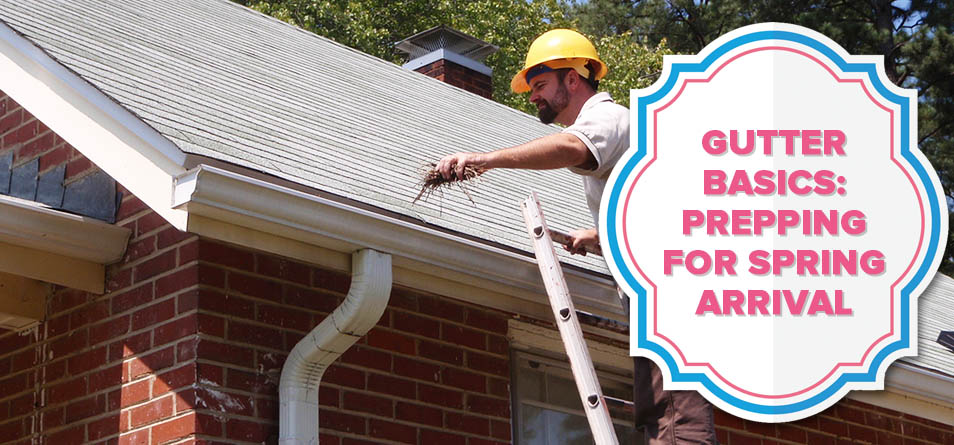 Gutter Basics: Prepping for Spring Arrival
Cleaning your gutters is a task that is frequently overlooked. Clearing out the eaves troughs is an important task of home ownership, which should be performed at least twice a year. If the gutters are clogged, the overflow water can cause damage to the landscaping and foundation around your Colleyville, TX house. The increased weight can cause the gutters to pull loose, which can lead to rot behind the fascia or trim.
During the winter months, clogged gutters can lead to ice damming and cause roof leaks. Ice will fill the gutters and begin to form up the roof slope. The ice subsequently forms between the layers of your roofing and back up into the roof system. Heat from the house will cause the ice to melt and leak into the structure. If there are a lot of trees or brush surrounding the house, it is recommended to clean the gutters more frequently.
Although there are many new innovative tools to help you accomplish this task, the standard practice involves using a ladder, hose, gloves, disposal bag, and a garden trowel or scoop. The average home should be cleaned twice a year, during the spring and in the fall. Although it sounds simple enough, gutter cleaning can be dangerous and should be performed by someone who is experienced or a roofing professional, such as Charles Martin and Son Roofing.
If you choose to tackle the job on your own, it is important to wear gloves and ensure the ladder is always secure. A ladder stabilizer or standoff can be used to prevent dents and damage to the gutters or siding. Begin at the downspout with a trowel and hose and ensure it is clear from debris. If a downspout is plugged, it may have to be dis-assembled and cleaned. Scoop and dispose of debris and then rinse the trough clean.
Whether you decide to complete the task yourself or select a professional, a roof inspection should still be conducted to thoroughly examine the condition of your Bedford, TX roofing system and identify any potential problems. Charles Martin and Son Roofing specialize in roof inspections, repairs, and gutters. Contact us today for all your roofing needs!